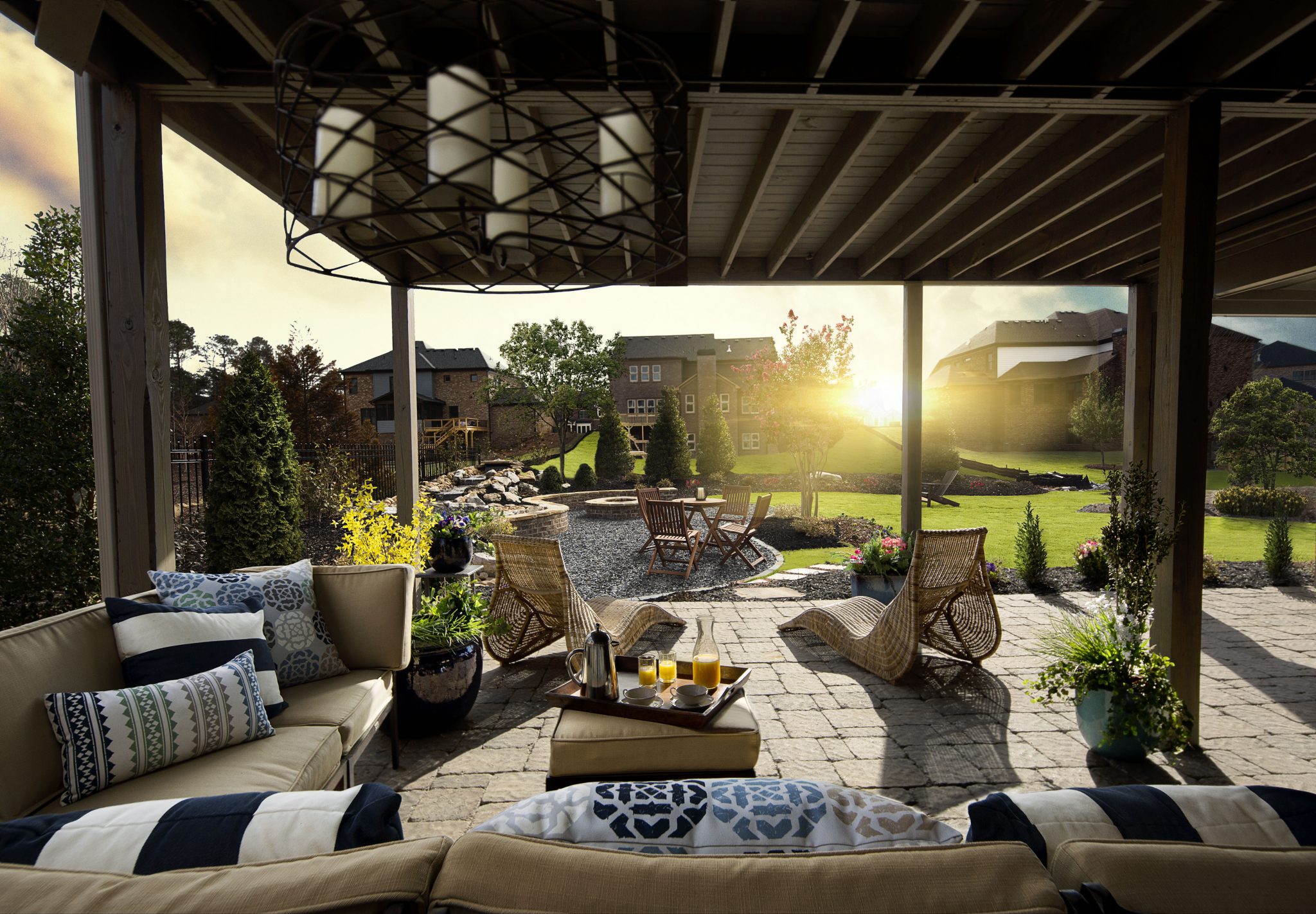 Outdoor living trends continue to develop as homeowners seek to build and design the backyard of their dreams.  The centerpiece of many outdoor living spaces is the patio.  It plays a central part in any gatherings or for just your every day lunch or dinner with family.
Gone are the days of having to settle for plain old concrete or brick when designing an outdoor patio. Nowadays, there are so many options to choose from to fit any style.
Concrete Patios continue to be a mainstay as far as patio construction goes.  However, homeowners are opting to upgrade plain concrete patios by incorporating design elements.  Stamped concrete patios have continued to grow in popularity because of the seemingly endless options in design.   Not only this, but stamped concrete can often mimic the look and feel of pavers and more expensive stone pavers upgrading a design with the high costs. In fact, stamped concrete can be designed to look like wood, slate, flagstone, brick and tile.  Homeowners also know that they don't have to sacrifice durability in order to have a sleek design when they choose stamped concrete for their patio.
Although stamped concrete incorporates color elements, homeowners are increasingly opting for colored or stained concrete to be incorporated into their patio design even without the stamped concrete. It is another way to upgrade plain concrete patios.
Another big trend that is taking hold is pavers.  Pavers are a great option for patios because they offer a variety of designs.  Another advantage of installing pavers is that repair is a breeze as only the impacted paver stones need to be replaced.  Not only this but pavers are less easily damaged by natural phenomena like earthquakes or shifts in the soil and drain easily, making them more flexible with natural elements. 
The downside of pavers is that they generally require more maintenance than traditional concrete patios. Weeds and other plants can begin to grow between them which requires that they be removed or treated. In order to avoid this occurring, the sand and gravel must be tightly packed. However, due to the nature of their design, weeds can still begin to peek through despite proper installation.
Another big design trend with patios is lighting.  It used to be that outdoor lighting was only thought of as an upscale landscape design element.  However, more and more homeowners are incorporating lighting design into their patio installation and overall landscape design because they know it can upgrade the look and feel of their outdoor space.  Patio lighting can augment the ambiance of your outdoor space while also playing a big role in maintaining more security on your home overall.  For those looking for less extensive lighting design, string lights are a good option to add lighting and design too. 
In terms of patio covers, there are really only a few viable options. Awnings and shade coverings are among the most popular choices. Shade coverings come in an assortment of colors and sizes. They tend to be less durable than more permanent structures like a roofed patio cover or a pergola but they perform well when they are functional.
A lot will depend on the amount of sun your patio receives throughout the day and evening. If full sun will be pouring down on the patio making it uncomfortable to stay out there for long periods of time to enjoy your outdoor space, it may be a good choice to invest in a more permanent shade solution.